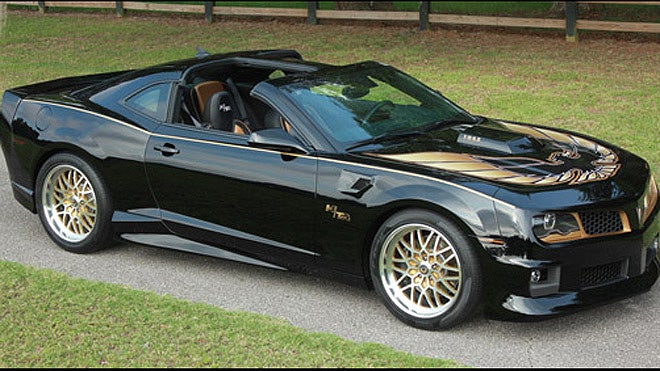 Hurst Edition Trans Am
Remaking "Smokey and the Bandit" would be a really bad idea, but this we can live with.
Custom car shop Trans Am Depot has teamed up with Hurst to turn the new Chevrolet Camaro into a modern iteration of the famous "Screaming Chicken" Pontiac Trans Am of the 1970's. It features a custom body kit with split grille, hood scoop and T-Tops, along with a fully redressed interior with Hurst shifter, Katzkin leather upholstery and retro gauges. The suspension is lowered and fitted with Eibach springs, while the Camaro's V8 can be upgraded with a choice of twin-turbos or a supercharger.
Buford T. Justice really doesn't stand a chance against this one.
Source: Trans Am Depot
Read more:http://www.foxnews.com/leisure/slideshow/2012/11/02/hottest-new-cars/?intcmp=features#slide=1#ixzz2BKEOFloe